The mission of Cow Tipping Press is to change our narratives around developmental disability. We do this literally, by teaching creative writing classes for adults with developmental disabilities and publishing their work—a body of writing that hardly exists outside our program! More broadly, we also live and lean into new ways of thinking about the value of our peers with disabilities through our integrated and innovative program operations.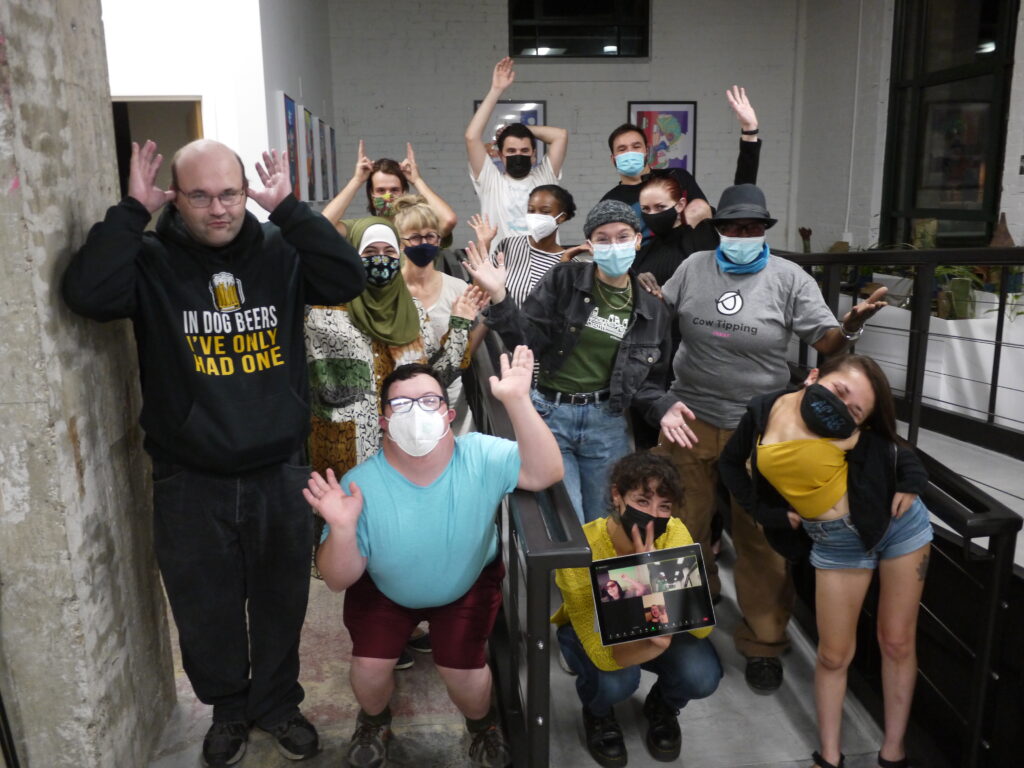 We envision and invite others into a world where tired stereotypes are tipped on their head, and disability is seen not as a problem to be overcome but rather a unique solution to society's ableist assumptions. This doesn't only mean books like ours being read and used as commonly as texts by other underrepresented voices; it means all of us leaning into the model they set, and discovering the generative value of greater inclusion in our home, school, and work lives.
Media
we can then like send people to this page to get a sense of our program!
What would be here? All the best stuff created, both internally and externally. Does it need a blurb? pry not. just embeds and links
i think for people issue and one day, it's big scan, same size as facebook embed, and links to websites
for will it's probably a screenshot
can you embed soundcloud at a certain point for radio k graphic?
[] X city pages people issue
a scan maybe?? then post on Facebook just for kicks
did i ever get a pdf? mmmm
---
[] X tfa article
– kong embed i think -tho could be less likely to lead folks to the article? could go find article embed
---
??? X radio K
– umm ours? would be nice to pop up an mp3 embed. and also link to the page. but as for graphic?
maybe it doesn't even come with a graphic. maybe it doesn't need one
---
X dragon video
duh
---
X highland friendship club
duh
---
X fox 9
duh
---
X danny
duh
---
[] X will article duH
same problem. maybe re-post? link to archive.org
---
marathon highlights
duh
---
then there's only one that's super old (2017, 4 yrs ago)
tcdp?
ruderman?
ally blog?
richman blog?
keyc?
staffing?
and let's get some more eh!
maybe just keep a record of everywher eelse down here
static, keyc, sun sailor, dis and progress x2, grinnell, waseca county news x2, lesuer, 360, mac, mary, reporters inc,