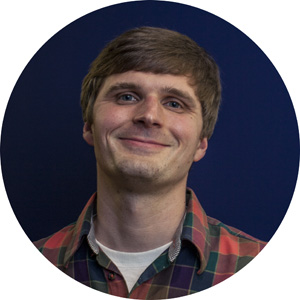 Bryan Boyce / Executive Director
bboyce@cowtippingpress.org / 507.521.2278
Bryan Boyce grew up in Waseca, Minnesota and graduated from Grinnell College before teaching high school English in Lesotho and the Rosebud Lakota Reservation and serving as Assistant Director of Breakthrough San Juan Capistrano, which he led to nationally recognized student gains. As the sibling of a brother with developmental disabilities, Bryan knows firsthand the value and richness of exchange across neurological difference. He seeks to give others this opportunity—an alternative to presuming deficit and pity—through the often inventive, radically self-representative writing of Cow Tipping authors.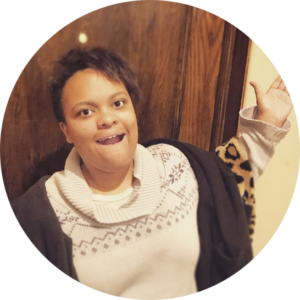 Mary Ayetey / Teaching Apprentice
Mary Ayetey is a writer who has autism who writes stories about Henriette and Bobbi and Blu. She writes about everything especially fiction, poetry and songs. She makes Jewelry, Greeting Cards, Soaps and Fire Starters. She likes Disney, Star Wars, Drama, Musicals, Documentaries, Avengers, Pitch Perfect, Ellen Degeneres, The Price is Right, and Let's Make a Deal. Mary is a very nice lady and she doesn't bite.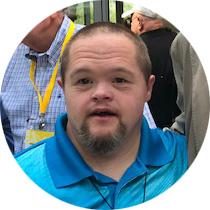 Nathan Bauer / Teaching Apprentice
Nathan Bauer wants to be like Michelle Obama. Born in 1978 of April. Wants to be a president like Barack Obama of the United States of America to help people with disabilities to have more independence. To stay in a fancy big home with all hot guy husbands and some will be body guards also. That's Nathan's United States Story.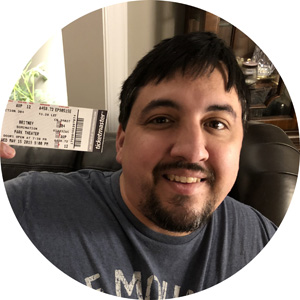 Danny Roherty / Teaching Apprentice
Danny Roherty didn't like to read and write. Harry Potter, however, changed that. He wrote he first poem and it was called "Life," an anti-suicidal poem. So then it just blossomed from there. He started his book writing and reading biographies and sci-fi or fantasy books and even wrote more poems. He thinks you all will love what he has to offer the world because he still has the imagination of a kid. One who wants to share his creativeness. Along with fellow Cow Tipping author Alex Junge, Danny is co-host of the podcast Daily Weird.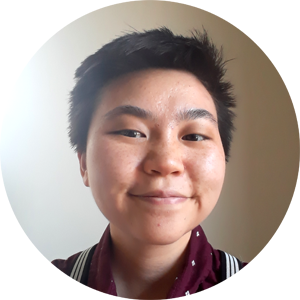 Christina Brewer / Cow Tipping Fellow
Lutheran Social Service
Christina Brewer grew up in Yellow Springs, Ohio and received a B.A. in English from Grinnell College. She enjoys reading fantasy novels, watching literary-inspired web series, and trying out any recipe that calls for balsamic vinegar. As a DSP at Lutheran Social Services, Christina has met some funny and clever people, and she appreciates all the new perspectives and ideas she's learning.
Enrique Castaño / Cow Tipping Fellow
MSS
Enrique Castaño was born and raised in Los Angeles, California. He graduated from Grinnell College in 2017 with degrees in Psychology and Sociology. One particular Psychology seminar class at Grinnell sparked his interest in the Cow Tipping Fellowship. Without any prior experience in the field of disabilities, Enrique accepted the offer and relocated back to the Midwest. Cow Tipping Press and MSS have taught him new skills, life lessons, and perspectives that have only been possible because of the day-to-day field work done at MSS. He enjoys leading an active lifestyle that also involves keeping an eye out for free food opportunities. At least one of his daily meals is accompanied by an avocado.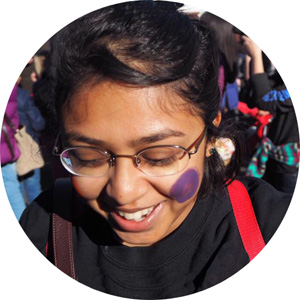 Sohini Ghosh / Cow Tipping Fellow
Rise
Sohini Ghosh grew up in Fremont, California. She graduated from Macalester College in 2018 with a B.A. in Neuroscience Studies and Music. Through Cow Tipping, she works for Rise, Inc. as a DSP. Rise has introduced many musical and fun-loving people to her and her co-workers. She's currently exploring the meaning of discrimination and equality for and within the disabled community at Rise.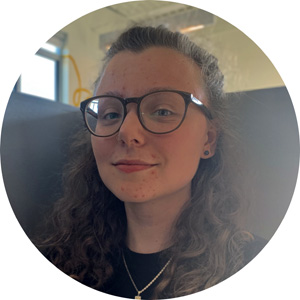 Ally Kann / Cow Tipping Fellow
MSS
Ally Kann was born and raised in Rochester, Minnesota. She graduated from the University of Minnesota Twin Cities with degrees in English literature and Arabic. As a Cow Tipping Fellow, she works at MSS. Her favorite part of her job is running the Self-Advocacy Committee! When she's not running around MSS, she loves reading, going to the YMCA, and drinking excessive amounts of black coffee.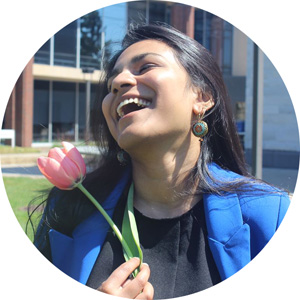 Aarohi Narain / Cow Tipping Fellow
Lutheran Social Service
Aarohi Narain was born and raised in New Delhi, India. She graduated from Macalester College in 2018, where she pursued International Studies, Japanese Language & Culture, and English Literature. She was drawn to Cow Tipping because of its emphasis on using narrative to enact justice, equity, and decolonization. The Fellowship program has also given her the opportunity to explore first-hand the intersections of immigration, race, and the care industry in global context.
Minneapolis, MN